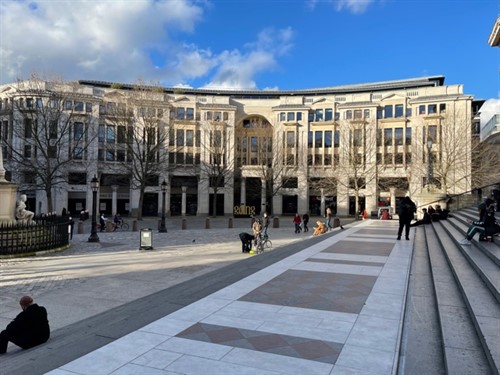 IDRC has moved to St Pauls EC4M 7BQ
The International Dispute Resolution Centre – London's leading arbitration hearing centre – has moved to impressive new space by St Paul's Cathedral with the LCIA among its tenant. 
When the IDRC first opened in London in 2000 it had just 11,000 square feet. It moved to 70 Fleet Street, which then had 24,000 square feet, in 2004 and later snapped up an adjacent building to gain a further 12,000 square feet.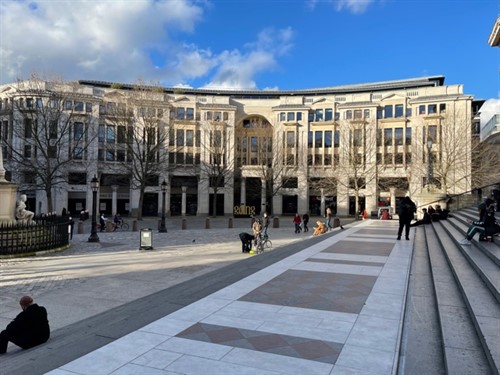 Damian Hickman, CEO of the IDRC, tells GAR that the new building – which was built in 2003 and has housed high-end offices up to now – has 70 rooms and close to 50,000 square feet. There is space to hold 16 hearings simultaneously, compared with the 12 simultaneous hearings possible in the current premises. 
It has breakout rooms, lounges, a dining hall, conference and entertainment space, offices for the resident organisations and private offices for arbitrators and mediators to use. There is also outside seating and a multi-storey car park underneath the premises.
Two hearing rooms have capacity for over 200 people and will be used for major arbitration hearings or public inquiries. Other rooms have varying capacities but are all spacious and airy with views of St Paul's and plenty of room for social distancing. 
Hickman tells GAR he is thrilled with the premises, which were secured on favourable terms thanks to the slump in the commercial property market during the pandemic and offer everything he had wanted for the centre. 
The location is nearer than the City before, which is convenient for law firms, but still within walking distance of the barristers' chambers around Fleet Street, he notes. It has good transport links, with the tube, Crossrail and other overland rail services nearby and easy travel to and from Heathrow and City Airport. It is also close to the bars and restaurants of Paternoster Square.
Having state-of-the-art technology and maximum connectivity is a priority for the new premises, says Hickman, who predicts that there will be even greater demand for these after the pandemic than there was before. 
"Although countless people have told me how much they are looking forward to a return to in-person hearings, I think that the experience gained of virtual hearings during the pandemic and the drive for greener arbitration will result in increased interest in hybrid hearings," he says. "These will be conducted live either here or somewhere else in the world, with witnesses appearing remotely from local hearing centres. There'll be less hopping on a plane from Singapore to attend a half day hearing."
The IDRC offers equipment for such hybrid hearings, including voice-activated cameras, ceiling microphones and multiple 100-inch monitors to ensure the virtual evidence is as vivid and clear as live evidence, he says.  There is power and Wi-Fi points in the hearing rooms' furniture.
A new air conditioning system is being installed with an innovative safe air system which is new to the UK and has a 99% success rate in reducing the spread of viruses and other air contaminants, he adds. The system has previously been installed in the hospital in Wuhan, the alleged epicentre of the pandemic in China. 
The rooms have 48 decibel sound proofing, meaning there is no danger of confidential proceedings being overheard. 
Hickman says as well as for hearings and events, he envisages the premises being used as occasional working space by arbitrators and mediators who may not have offices or chambers in London. 
He says that in selecting the premises and deciding on renovations, the centre has taken account of feedback given on the current premises over the years. 
The LCIA's director general Jacomijn van Haersolte-van Hof is equally excited about the new building.
"It is be great to be in a more modern building with better ventilation and climate control," she says. "This is of the essence in a post-covid environment where we want to make sure staff feel safe and comfortable."
Van Haersolte-van Hof adds that the LCIA's offices there are a similar size to their previous ones in Fleet Street, with plenty of room per person. 
"Moving is a great opportunity for a 'spring clean' and coincides with the shift away from paper embedded in the 2020 LCIA rules," she says. "We are actively looking at how to make the office greener and more sustainable – by providing bicycle parking for example."
"Remaining in shared premises with the IDRC will mean we are close to where the action is, with users and arbitrators coming in for hearings. The sense of an arbitration hub will be even stronger than in the current space."
Since the pandemic started in March last year, the IDRC has stayed open, overseeing 18 virtual hearings a day at its busiest time (more than could have been held live at any one time). 
In late September the Fleet Street premises was handed back to the City of London, which will convert it into a new court building due to open in 2025.
Two weeks before the hearings, the IDRC and moot organisers will be offering training sessions for teams and arbitrators to get accustomed to the features and set up of the virtual Vis Moot hearing room. The organisers will also provide virtual hearing rules.
Last year, the IDRC formed an alliance with two other leading international arbitration hearing centre, Maxwell Centres in Singapore and Arbitration Place in Toronto and Ottawa, meaning they will coordinate to provide hybrid hearings.